THIS SITE IS MEANT TO SERVE AS AN ARCHIVE FOR LADYFEST 2000. THAT FESTIVAL IS OVER - BUT OTHER LADIES ARE PLANNING THEIR OWN! FOR INFO ON ANY OTHER LADYFEST (PAST OR FUTURE) GO HERE.
** Information about the upcoming Olympia ladyfest in 2005 will be posted on a new website, as soon as it is available. **
All of the information on these pages was current in August, 2000 and has not been updated since.We would like to encourage ladies to take what they can from our experience and create their own events in their own communities. Please keep us updated.


JOIN LADYFEST ANNOUNCEMENT ONELIST (news updates, etc.)
JOIN LADYFEST BOUND LIST (share rides and accomodations in Olympia)
Read more here or subscribe here.
DONATION FORM is up - info on ads in the ladyfest program is included in the form. There is also a benefit show page with live photos and fliers!
Ladyfest addresses:
info@ladyfest.org
PO BOX 1784 Olympia, WA 98507 USA
(360) 252-2086 [voicemail only]
site hosted by buyolympia.com / olywa.net
Ladyfest is sponsored in part by gurl.com and underwritten in part by emplive. com
SPECIAL THANKS to Music 6000 and Sony for donating equipment & all of their support!
LADYFEST MESSAGE BOARD IS UP!
Write your impressions & experiences at ladyfest events HERE.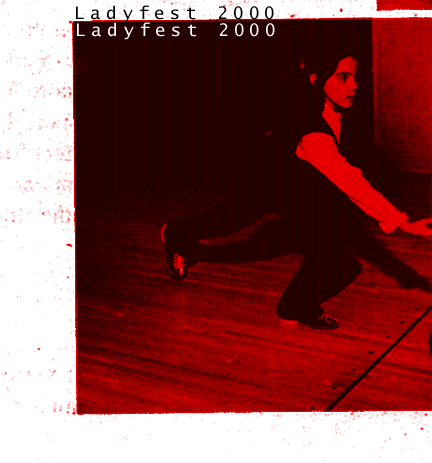 Ladyfest is a non-profit, community-based event designed by and for women to showcase, celebrate and encourage the artistic, organizational and political work and talents of women. It will feature performances by bands, spoken word artists, authors, visual artists and more!!! It will include workshops, panels, and dance parties. This is a woman-run event but all are welcome to attend.