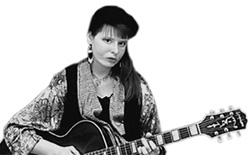 Thursday 7:00 PM at Traditions Cafe
Sounds from Venus (details below)
Friday 7:00 PM at Capitol Playhouse
Alice Stuart - Blues
Saturday 7:00 PM at Capitol Playhouse
Taylor Jay - Women in Swing
followed by Swing Dance Party with Taylor and her band
Sunday 6:30 PM at Traditions
LisaNa RedBear - Video & Song
Sunday 8:00 PM at Traditions
Mavis in Concert
Other Women & Guitars Events - Times and Locations to be announced:
(open to Ladyfest Pass Holders)
•Gayle Tremblay - Poetry Reading
•LisaNa RedBear - Report on- Women of Color against Violence Conference - Safe communities without police involvement
•Tamara Demetro - Gypsy culture, music and more
•Christine Hawkes-Lewis (Mavis) - History of Scottish Song
•Poetry Slam
•Songwriters Night
•and more
Sounds from Venus sponsored by Mega Babe Music event for Women & Guitars @ Ladyfest will have the following performers in Olympia:
• Joy Styles (R&B songstress)
• Naviv (Funky-folk and soul)
• Casey Cyr (Rock-alternative)
• Rhythyms of Aqua (Acoustic-folk and soul)
• Holly Figueroa (Alterna-rock)
• Suhir Blackeagle (Soul-jazz and pop songstress)
Bios:
"Holly Figueroa started wowing national audiences in 1999 after 2 years of local Seattle shows. She has toured extensively throughout the US, greeting fans everywhere with her refreshing style of hybrid folk and blues."
Joy Styles blues style and silky voice brings joy and sincerity. She brings us back in time to the days of the dark smoky clubs where people would listen to the sounds of R&B and for that moment forget about the troubles of everyday life and groove.
Casey Cyr dedicates her music and message to a wonderful blend of topics, captivating audiences and making them open up and listen. Her style of alternative-rock and pop is refreshing to say the least.
Rhythyms of Aqua opens you up with acoustic sounds and spheres of folk, rock, classical and soul. Three women in this trio of violin, percussions and guitar are a beautiful blend for your ears.
Suhir Blackeagle blessings from this vocalist as she captivates you with sounds of soul, jazz and rock. Her stage style is contagious. She brings you into her home when she sings and you sit down. Not to be missed.
Naviv deemed the high-priestess of funky folk by members of New York City's Black Rock Coalition, Naviv's dred-locked rocker flare fits with her blend of pop-soul & rock. Her songs are vivid, fun & intense scenes from her life that leave you inspired.